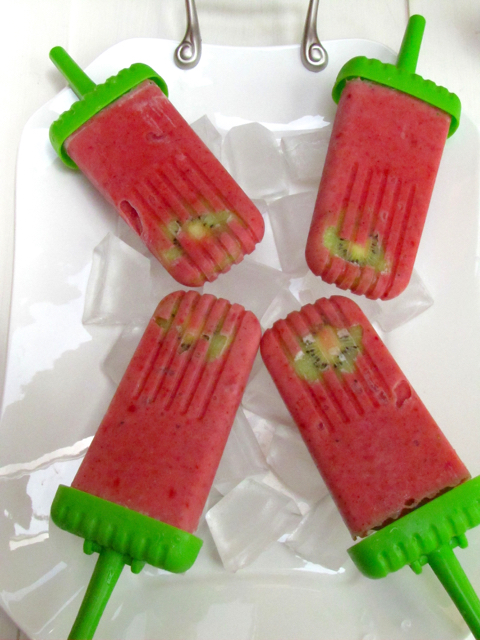 I can't believe that technical summer is coming to an end soon! My first born will be starting kindergarten this year, which I am excited for but sad about at the same time. My babies are growing up too fast! We are trying to squeeze in as much summer fun as possible before school starts. Which means beach days, farmer's market trips, walks and cold treats.
Popsicles are the perfect cool-off treat for a hot day. Usually a healthier option than ice cream or other frozen desserts. I like to fill my popsicles with fruit so they are naturally sweet. These strawberry kiwi popsicles are appealing to the eye and palate.
---
Island Bakes Original
Strawberry Kiwi Popsicles
Fresh summer strawberries are slightly sweetened from honey and mixed with fresh kiwi. A great summer treat for everyone.
Ingredients
3 kiwis, peeled, 2 quartered and 1 thinly sliced
2 heaping cups strawberries, frozen or fresh
3/4 cup plain or vanilla yogurt
1 teaspoon vanilla extract
1 1/2 teaspoons lemon juice
2-4 Tablespoons honey
Instructions
Place all the ingredients, except the sliced kiwi in a blender or food processor. Purée until smooth. Add more honey if desired. In the popsicle molds, place 1 slice of kiwi against the side of each mold. Pour the puréed mixture into each mold. Place in the freezer until solid then serve.