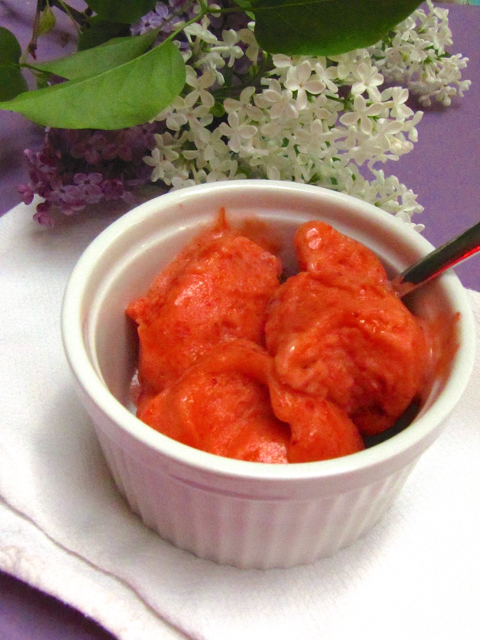 I really can't get enough of rhubarb! I hope you aren't tired of it yet because I have several more recipes to share. I see it as you have to take advantage of it while it's in season! Nothing beats fresh veggies and fruit, especially if you grow them yourself! To contribute to my love of rhubarb, we got out first CSA box of the season this past Friday from our favorite local farm, and they gave us a large handful of fresh rhubarb. Fresh, organic veggies from a local farm once a week- I am so excited! This year I didn't want to commit to large scale gardening with baby on the way (41 weeks pregnant today and no luck yet!). So instead, I get to pick up the CSA box at the local farmer's market every Friday and eye over all the amazing food sold there. Or maybe not just eye over…
This sorbet is divine. I love the fresh combination of flavors. You can totally get away with using frozen strawberries as well. This was a welcome treat to have in the freezer. Needless to say, I ate it all within a matter of days… This a perfect, healthier treat for a warm day.
---
Recipe from The Perfect Scoop, by David Lebovitz
Strawberry-Rhubarb Sorbet
This dairy free sorbet is full of fresh summer flavors with rhubarb and strawberries.
Ingredients
12 oz. rhubarb
2/3 cup water
3/4 cup sugar
10 oz. fresh or frozen strawberries, chopped
1/2 teaspoon lemon juice
Instructions
Wash the rhubarb stalks and trim the stem and leaf ends. (Remember- rhubarb leaves are poisonous!) Cut the rhubarb into 1/2-inch pieces.

Place the rhubarb, water and sugar in a medium, nonreactive saucepan and bring to a boil. Reduce the heat, cover, and simmer for 5 minutes, or until the rhubarb is tender and cooked through. Remove from the heat and let cool to room temperature.

Place the strawberries, cooled rhubarb mixture and lemon juice in a blender or food processor and purée until smooth.

Chill the mixture thoroughly in the refrigerator, then freeze in your ice cream maker according to the manufacturer's instructions.