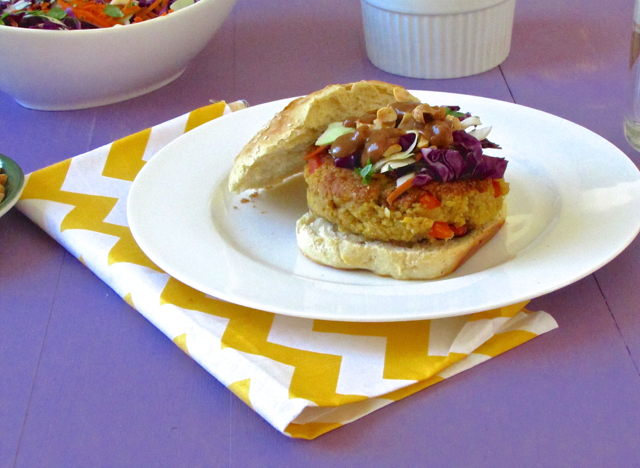 Veggie burgers are something that I have been actually pretty excited to explore with in the kitchen. I am usually so turned off by them at restaurants because they always look quite unappetizing. Cooking them at home is much easier and safer to me because I know exactly what I am putting into them! Black bean burgers and lentil-walnut burgers are my good ol' favorites that I generally turn to. But when I saw this recipe, I knew I had to try it out a.s.a.p.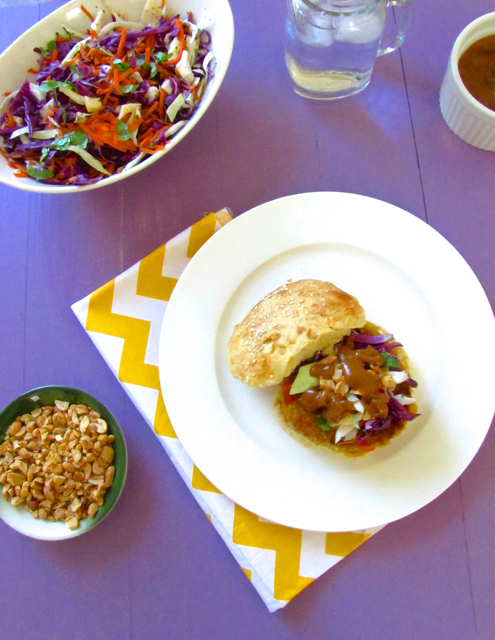 These did not disappoint. They were incredibly filling and tasty. Anything with peanut sauce is bound to be delicious, right? I thawed out some homemade burger buns I had in the freezer. (So much better than store bought!) I invited my mom for lunch while making these. She loved them. The only change deemed necessary for next time is for them to be thinner. I look forward to making these again soon.
---
Recipe from Annie's Eats
Thai Veggie Burgers with Peanut Sauce
These anything but boring veggie burgers are full of flavor, tender and satisfying with a simple slaw topping and peanut sauce drizzle.
Ingredients
For the burgers
1/2 cup uncooked quinoa
2 teaspoons olive oil, divided, plus more for pan
1 cup water or vegetable broth
1 (15 oz) can chickpeas
3/4 cup old fashioned oats
1/2 cup yellow cornmeal
1 teaspoon kosher salt
1/4 teaspoon paprika
2 cloves garlic, minced
1 teaspoon sesame oil
1 large egg
1/3 cup diced red bell pepper
1/3 cup diced red onion
For the slaw
1 cup thinly sliced red cabbage
1 cup thinly sliced green cabbage
1 cup shredded carrot
1/2 cup coarsely chopped cilantro
For the peanut sauce
1/4 cup creamy peanut butter
2 Tablespoons honey
1 Tablespoon soy sauce
1 teaspoon grated fresh ginger
1/2 teaspoon crushed red pepper flakes
Juice of 1 lime
2 Tablespoons water
Optional
Toasted burger buns
Coarsely chopped peanuts
Instructions
In a fine mesh strainer, rinse the quinoa well. Shake vigorously to remove as much water as possible. Heat 1 teaspoon of the oil in a small saucepan over medium-high heat. Add the drained quinoa to the pan and cook, stirring frequently, until lightly toasted, 2-3 minutes. Stir in the water or veggie broth and bring to a boil. Lower the heat to a simmer, cover, and let cook for 15 minutes. Remove from the heat and let stand covered, 5 more minutes. Remove the lid, fluff with a fork, and set aside to let cool.

In the bowl of a food processor, combine the chickpeas, oats, cornmeal, salt, paprika, garlic, and sesame oil. Process until the mixture is finely ground and well blended. Pulse in the egg until combined. Transfer the mixture to a large mixing bowl. Fold in the cooled quinoa, diced red pepper and onion, as well as an additional 1 teaspoon of olive oil. Stir together gently until evenly mixed. Form the mixture into patties (about 6-8, depending on the size you make).

To make the slaw, combine the cabbages, shredded carrot, and cilantro in a bowl. Toss to combine. Set aside.

To make the sauce, combine all ingredients in a small bowl or liquid measuring cup. Whisk together until well blended and smooth. To cook the burgers, add a generous drizzle of olive oil to a large skillet and heat over medium-high. Coat the bottom of the skillet with the oil. Add the patties to the pan and cook, turning once, until both sides are browned and the patties are cooked through, about 6-8 minutes total. Remove the cooked patties from the pan.

Assemble the burgers on toasted buns topped with the slaw, a drizzle of peanut sauce, chopped peanuts and a squeeze of lime juice, as desired.