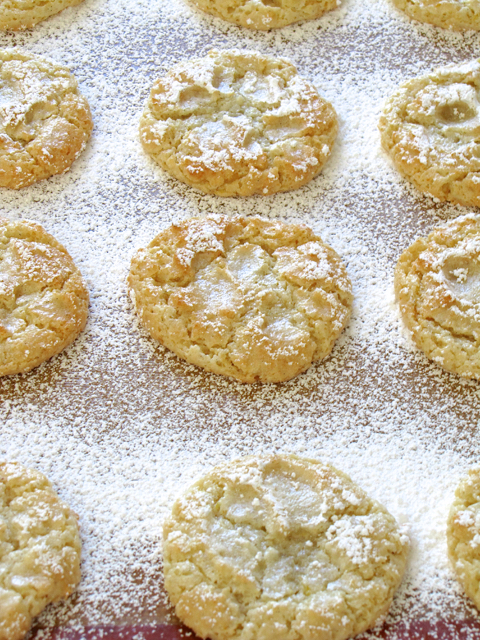 Last week it was my sister's birthday. The whole family decided to do a little BBQ on the beach in celebration. It turned out to be a beautiful evening, low tide and perfect for grilling! The kids had a blast having all their aunties and uncles in one place at the same time. And really, what's better than the beach?
As you all probably know by now, I don't like to buy presents for people. I generally make something. For birthdays, I usually bake something sweet. Since my sister is gluten free, my choices were limited. I am not set up for baking gluten free, so I was determined to find a recipe that didn't involve buying a lot of specialty ingredients. I knew exactly which blog site to check out. Just as I had hoped, there was a very large section of gluten free goods. These particular cookies caught my eye immediately.
I just had to save one or two cookies for myself so I could try them. They were oh so good. But, they were a little on the sweet side, even for me, and the orange did not come out as much as I had hoped it would. So, hopefully, I have made the appropriate adjustments to the recipe below.
---
Recipe adapted from Joy the Baker
Vanilla Almond Orange Cloud Cookies
These cookies are wonderfully soft and chewy. Filled with sweet almond paste, orange zest and vanilla beans, this makes for a fabulous, unique cookie.
Ingredients
3/4 cup granulated sugar
4 teaspoons orange zest
1 vanilla bean, seeds scraped
10 ounces almond paste
1/4 teaspoon salt
2 large egg whites
1/4 teaspoon almond extract
confectioner's sugar
Instructions
Preheat the oven to 325ºF. Have ready two baking sheets lined with silpat or parchment paper.

In a small bowl, mix together the granulated sugar, orange zest and vanilla bean seeds. Use your fingers to work the zest and seeds into the sugar, creating a moist, fragrant sugar.

Place the sugar in the bowl of a stand mixer fitted with the paddle attachment. Add the almond paste and salt. Beat on medium speed to thoroughly mix together.

In a separate small bowl, whisk the two egg whites with a fork until light and frothy. With the mixer on medium speed, gradually pour in the egg whites. Beat until a smooth paste is formed. Add the almond extract and beat until combined.

Scoop the batter by the tablespoonful onto the prepared baking sheets. Sprinkle generously with confectioner's sugar. Using the tips of three fingers, make indentations in each cookie.

Bake cookies for 20-25 minutes, or until cookies are lightly browned on top. Let cool completely before serving or storing.