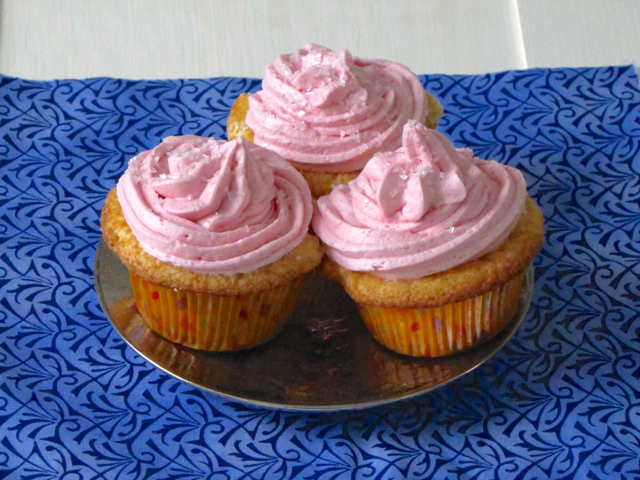 Happy first day of Spring! It's a rainy, windy day for us, but in the 40's. At least it's not snowing (it did last year) and maybe some of the ice/snow will go away! I'll take it any day.
A few weeks ago, I went with my daughter to one of her friend's birthday parties. Of course cake was served. For some reason, it made me desperately crave cupcakes. So, I went home and made some. I wanted something fruit based. I decided that fruit frosting was the way to go.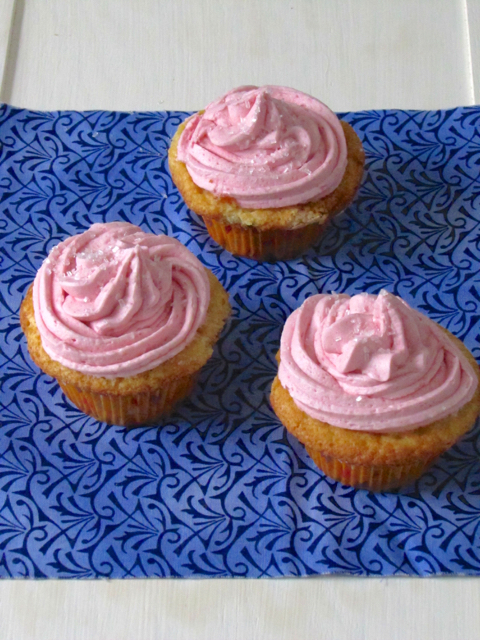 Boy, was I ever right! These cupcakes were amazing. I used a simple (yet favorite) vanilla cupcake recipe, then made my own frosting. I generally have frozen raspberries in the freezer for smoothies, so I thought they would be a perfect addition to a frosting. These cupcakes are so addicting. So simple, yet absolutely delicious! The cupcake is soft and cakey, they way it should be, topped with creamy, scrumptious frosting. And they are cute to boot!
---
Recipe for the cupcakes from Lily's Café Cookbook, Revised Edition by Kyra Alex, frosting is Island Bakes Original
Vanilla Cupcakes with Raspberry Frosting
Moist, tender yellow cupcakes topped with a raspberry frosting are the cupcakes you need in your life for any occasion.
Ingredients
For the cupcakes
1 large egg
1 large egg yolk
1 cup granulated sugar
1 1/4 cups all-purpose flour
1/2 teaspoon baking powder
1/4 teaspoon baking soda
1/4 teaspoon salt
1/2 vegetable or canola oil
1 teaspoon vanilla extract
1/2 cup sour cream or yogurt
For the raspberry purée
1/2 cup raspberries, fresh or frozen, thawed
1 teaspoon granulated sugar
For the frosting
12 Tablespoons unsalted butter, at room temperature
1 1/2 cups confectioner's sugar
2 Tablespoons milk
1/2 teaspoon vanilla extract
1 1/2 Tablespoons raspberry purée
Instructions
For the cupcakes, preheat the oven to 350ºF. Line, or grease 12 wells of a muffin pan. Set aside.

In the bowl of a stand mixer, beat the egg, egg yolk and sugar on medium-high speed until thickened and light yellow in color, about 3-4 minutes. On low speed, mix in the oil and vanilla extract. Mix until blended. Blend in the sour cream until no streaks remain.

In a small bowl, whisk together the flour, baking powder, baking soda and salt.

On low speed, slowly incorporate the flour into the egg mixture. Mix until smooth and the flour is incorporated.

Evenly divide the batter between the 12 prepared muffin wells.

Bake in the preheated oven for 15-20 minutes, or until puffed up and a toothpick inserted in the middle comes out clean.

Let cool for 10 minutes, then remove the cupcakes from the pan to a wire rack. Let cool completely before frosting.

For the purée, while the cupcakes are baking, mash together with a fork the raspberries and sugar. Let sit to macerate while the cupcakes bake. Place the raspberries in a food processor or blender and process until smooth. Set in the refrigerator until ready to use.

For the frosting, beat the butter on medium-high speed until smooth. Slowly beat in the confectioner's sugar until smooth. Add the raspberry purée, milk and vanilla extract. Beat on medium-high speed until light and fluffy, 3-4 minutes. Pipe onto cooled cupcakes. Decorate with sprinkles if desired.
Notes
Store covered in the refrigerator for up to 4 days.