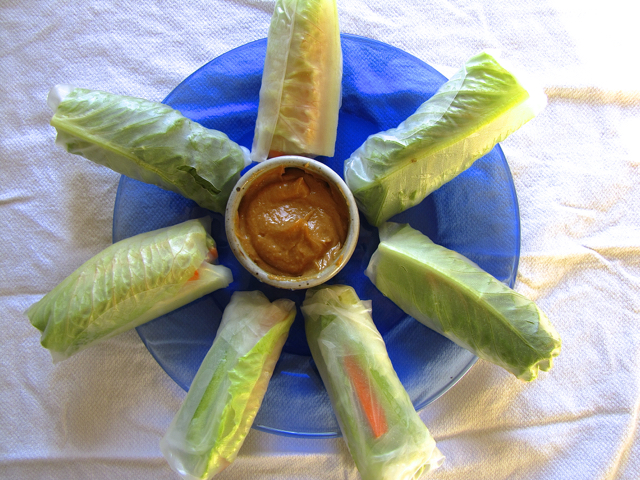 Spring rolls are something that I have only experienced once or twice. But, the experience was great. So, it inspired me to try to make them myself. I considered a few different dipping sauces, but peanut sauce came through. How can you go wrong with peanut sauce? In fact, it was so delicious, that I had to restrain myself from eating it with a spoon.
The great thing about spring rolls is that you can put in whatever suits your fancy. Like fresh green beans (weird?), celery, or shredded chicken, or avocado. Ohh, I think I may have to put avocado in next time. That sounds delish.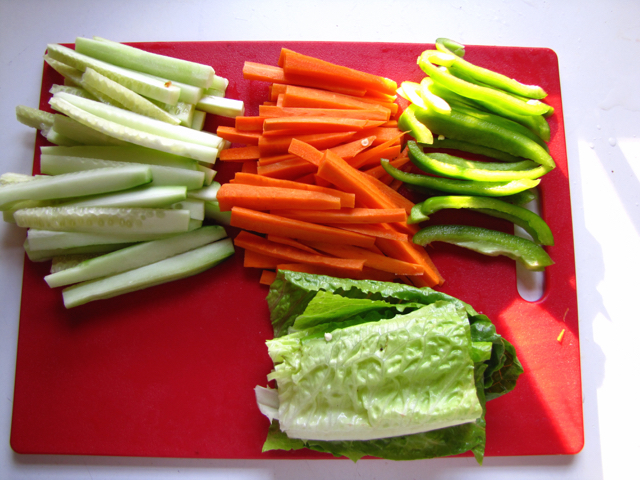 These make a great refreshing lunch, or a light dinner. Fabulous for a hot summer's day! These would even be great for a finger food party.
---
Island Bakes Original
Vegetable Spring Rolls with Peanut Dipping Sauce
These spring rolls are packed full of crisp, fresh veggies and are perfect for dipping into this creamy peanut sauce.
Ingredients
1 4.7 oz package of spring roll wrappers
1 large cucumber, peeled and julienned
3-4 medium carrots, peeled and julienned
1/2 green pepper, julienned
3-4 romaine lettuce leaves, sliced in half
For the peanut dipping sauce
3 heaping Tablespoons creamy peanut butter
5 Tablespoons hot water
1 Tablespoon soy sauce
1 Tablespoon brown sugar
1 teaspoon garlic powder
2 Tablespoons sesame oil
2 Tablespoons olive oil
Instructions
Prepare the peanut dipping sauce in a small bowl by whisking together all the ingredients until smooth and thoroughly combined. Cover with plastic wrap and store in the fridge until ready to use, whisking again before serving.

Prepare the spring roll wrappers according to directions on package. Working with one spring roll wrapper at a time, lay a lettuce leaf in the center on the wrapper, place 3-4 slices of each vegetable inside the lettuce leaf. Fold the bottom and top of the wrapper into the center, then fold in the sides, rolling to seal. Be gentle because the spring roll wrappers can tear easily. Continue until all vegetables are used, or until desired amount is made. (Prepare right before serving). Serve with peanut dipping sauce.