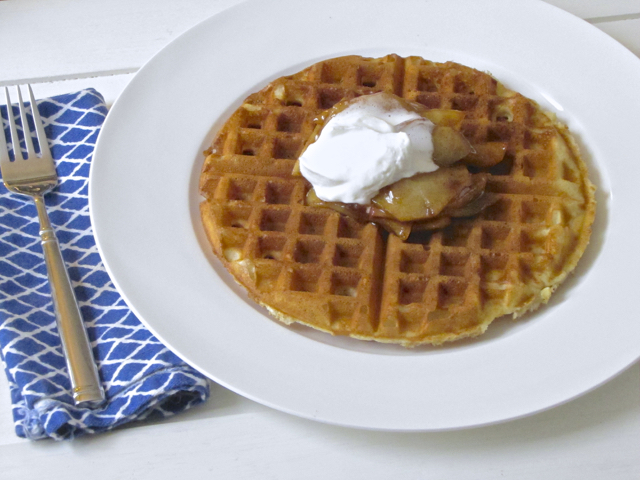 I know, that title is a little presumptuous. But really, these are almost always the only waffles I ever make. They are so easy to throw together and have on the table in no time. These waffles are a great, light texture. I usually don't wait the 30 minutes for the batter to sit, and I have never noticed a difference! They don't have an overpowering flavor, so they make a great base for fruit or any other toppings you'd like. One of my favorite toppings is caramelized apples. It is always a great way to use up a couple of mealy apples rolling around in the back of your fridge. I use the same technique that I do in my oatmeal recipe. It works out really well!
---
Recipe for the waffles from Annie's Eats and caramelized apples from Island Bakes Original
Waffles of Insane Greatness with Caramelized Apples
These waffles are tasty and have a wonderful texture. They are perfect for topping with caramelized apples and maple syrup.
Ingredients
3/4 cup all-purpose flour
1/4 cup cornstarch
1/2 teaspoon baking powder
1/4 teaspoon baking soda
1/2 teaspoon salt
1 1/2 Tablespoons sugar
1/2 cup whole milk
1/2 cup buttermilk
1/3 cup vegetable oil
1 large egg, lightly beaten
3/4 teaspoon vanilla extract
For the apples
1-2 apples, peeled, thinly sliced
1 Tablespoon unsalted butter
2 Tablespoons honey
2 teaspoons ground cinnamon
Instructions
In a medium mixing bowl, combine the flour, cornstarch, baking powder, baking soda, salt and sugar. Whisk together to blend. In another mixing bowl, beat together the whole milk, buttermilk, oil, egg and vanilla. Add the dry ingredients to the bowl with the wet ingredients and whisk just until incorporated and few lumps remain. Set aside to rest for 30 minutes (optional).

Meanwhile, in a medium saucepan, over medium heat, melt the butter. Stir in the sliced apples, honey and cinnamon. Cook, stirring frequently, until the apples are golden and soft, 7-10 minutes.

Preheat a waffle iron. Fill waffle wells and cook according to the manufacturer's instructions. Cook until crisp and golden. Serve immediately, topped with the caramelized apples.