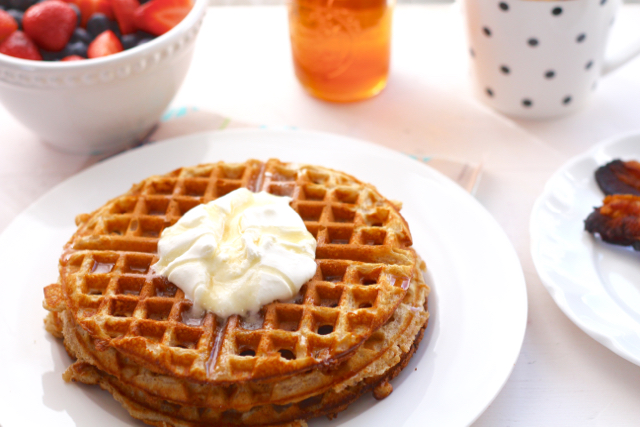 On the weekends, we like to mix up the weekly routine of granola or toast that we all have on a daily basis. The kids (my son especially), generally request waffles. My daughter usually requests bacon and/or eggs. Some weekends we go all out, others, not so much. When I do make waffles, I like to make a big batch and freeze the rest. That way, if I don't really feel like cooking a big breakfast, I can just take one out of the freezer and pop it in the toaster. It is seriously that easy!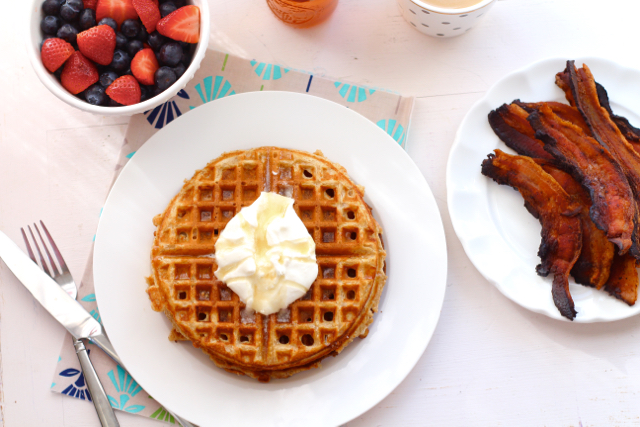 I generally have one waffle recipe that I resort to, but I decided it was time to change it up. When I came across Annie's chai waffles a few months ago, I thought this would be my perfect chance! They did not disappoint in the least. They make the house smell so good, and the spices are a perfect blend of warmth. Especially on these dreary New England "spring" days. I had some left over heavy cream in the fridge to make into freshly whipped cream, fresh fruit and the last jar of the syrup we made a year ago. And bacon, of course! It was a great way to start the weekend with the family. I look forward to making these again and again.
---
Recipe adapted from King Arthur Flour, via Annie's Eats
Whole Grain Chai Waffles
Warm spices and whole wheat flour make for a tender and flavorful breakfast. Serve warm with maple syrup and whipped cream!
Ingredients
2 cups whole wheat flour
1 cup oat flour*
1 teaspoon salt
1 Tablespoon plus 1 teaspoon baking powder
1/4 cup brown sugar
1 teaspoon ground cinnamon
1 teaspoon ground ginger
1 teaspoon ground cloves
1 teaspoon ground cardamom
2 large eggs
2 3/4 cups milk, at room temperature
1/4 cup orange juice
2/3 cup melted butter
Instructions
In a large mixing bowl, whisk together the flours, salt, baking powder, brown sugar, cinnamon, ginger, cloves and cardamom. In a large liquid measuring cup, whisk together the eggs, milk, orange juice and oil or butter. Pour the liquid ingredients into the bowl with the dry ingredients and whisk just until evenly mixed and a smooth batter forms.

Heat the waffle iron. Cook the batter in the waffle iron according to the manufacturer's instructions. Serve warm.
Notes
*If you don't have oat flour (I never do), process old fashioned oats in a food processor until finely ground.