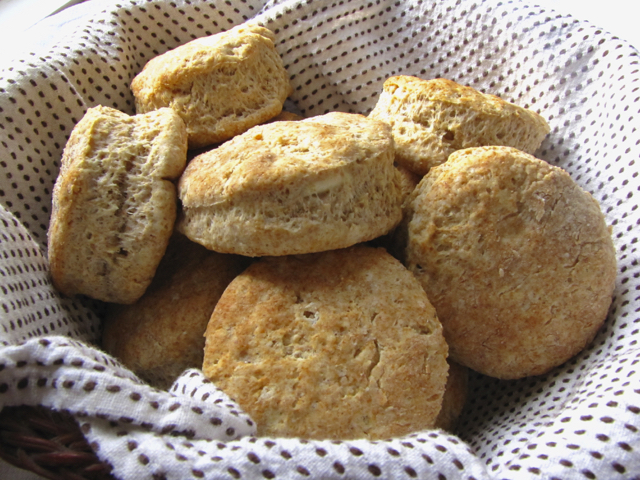 Here's to another love of bread post. I apologize.
Biscuits/rolls are a fantastic side to a great meal. In the winter, they are a personal favorite comfort food. Especially when my kids decide they only want to eat the bread instead of anything else.
I love to make these biscuits when I am short on time. They are easy to whip up shortly before dinner, since there isn't any yeast involved. They are even good the next day, warmed up with a little butter or honey…mmm. They are fluffy, soft and delicious!
---
Recipe from The America's Test Kitchen Healthy Family Cookbook
Whole-Wheat Buttermilk Biscuits
These flaky yet tender biscuits are great for slathering with butter or dipping into soup. 
Ingredients
6 Tablespoons unsalted butter, cut into 1/2-inch pieces
1 1/2 oz light cream cheese, cut into 1/2-inch pieces
2 cups all-purpose flour
1 cup whole wheat flour
4 Tablespoons sugar
1 Tablespoon baking powder
3/4 teaspoon salt
1/2 teaspoon baking soda
1 1/4 cups buttermilk, chilled
Instructions
Place the butter and cream cheese on a plate and freeze until the cream cheese is solid, about 1 hour. (This step is important, so don't skip it!)

Preheat the oven to 450ºF. Line a baking sheet with parchment paper or silpat.

In your food processor, pulse together the all-purpose flour, whole wheat flour, sugar, baking powder, salt, and baking soda, about 3 pulses. Scatter the frozen butter and cream cheese evenly over the top of the flour mixture, and continue to pulse until the mixture resembles coarse meal, about 15 pulses.

Transfer the mixture to a large bowl. Stir in the buttermilk with a rubber spatula until the dough comes together. Turn the dough out onto a lightly floured couter and knead until just smooth and no longer shaggy, 8-10 times. Pat the dough into a 9-inch circle, about 3/4 inch thick.

Using a floured 2 1/2-inch biscuit cutter, stamp out 12 biscuits, gently patting the dough scraps back into a uniform 3/4-inch-thick piece as needed. Continue to cut the biscuits out until the dough is gone, shaping the last few with your hands. Arrange the biscuits, upside down, on the prepared baking sheet, spaced about 1 1/2 inches apart.

Bake for 5 minutes, then rotate the baking sheet and reduce the oven temperature to 400 degrees. Continue to bake until the tops and bottoms are golden brown, 12-15 minutes. Let cool for 10 minutes before slicing and serving.
Notes
Store in an airtight container up to 3 days.