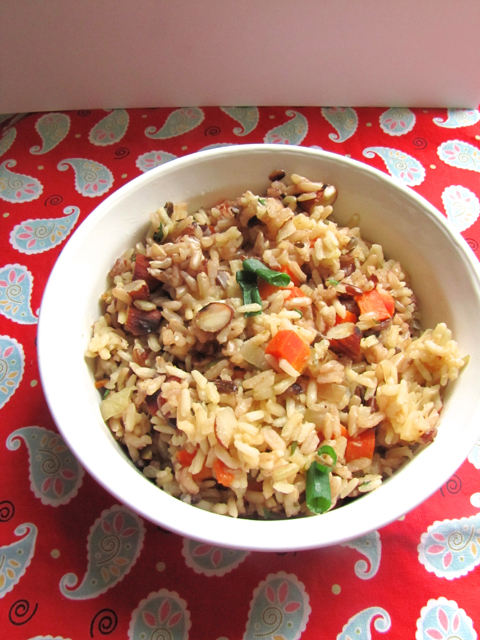 When I was a kid, I would only eat white rice with butter and soy sauce. If there was a hint of a different color in my rice, I wouldn't touch it. You can't tell that I was a picky eater growing up.
Now, when I cook rice, I try to make it interesting and sneak in some vegetables, hoping that my daughter (who I am pretty sure is going along the same picky route as I did) won't notice. This wild rice pilaf is a personal favorite. I love the taste and crunch of the toasted almonds and the wonderful color the carrots add. Don't be intimidated by the long directions, this dish actually comes together reasonably fast.
---
Recipe adapted from The America's Test Kitchen Healthy Family Cookbook
Wild Rice Pilaf
Total Time:
1 hour
10 minutes
This white and wild rice pilaf is filled with toasted almonds, vegetables and herbs. A fun side dish for any meal.
Ingredients
2 cups low-sodium chicken broth (or vegetable)
2 bay leaves
2 teaspoons thyme
1 cup wild rice, rinsed and drained
2 Tablespoons olive oil
2 carrots, peeled and chopped fine
1 onion, minced
salt and pepper
1 1/2 cups long-grain white rice, rinsed and drained
2 1/4 cups water
3/4 cup almonds, toasted and chopped
2 teaspoons dried parsley
2 scallions, thinly sliced
1 teaspoon fresh lime juice
Instructions
Bring the broth, bay leaves and 1 teaspoon thyme to a boil in a medium saucepan. Add the wild rice and bring to a simmer. Reduce the heat to low, cover, and continue to simmer until the wild rice is tender and has absorbed most of the liquid, 35-40 minutes. Drain the rice, discarding the bay leaves. Return the wild rice to the pot and cover to keep warm.
While the rice cooks, heat 2 tablespoons of the oil in a large saucepan over medium heat until shimmering. Add the carrots, onion, and 1/2 teaspoon salt and cook, stirring occasionally until the vegetables are softened, 5-7 minutes.
Stir in the white rice and cook, stirring often, until the edges of the grains begin to turn translucent, about 3 minutes. Stir in the water, and remaining 1 teaspoon thyme, and bring to a simmer. Reduce the heat to low, cover, and continue to simmer until the rice is tender and the water is absorbed, 16-20 minutes.
Remove the pot from the heat and lay a clean folded kitchen towel underneath the lid. Let sit for 10 minutes, then fluff the rice with a fork.
Combine the cooked wild rice and white rice, almonds, parsley, and scallions in a large serving bowl. Drizzle with the lime juice and toss to combine. Season with salt and pepper to taste and serve.