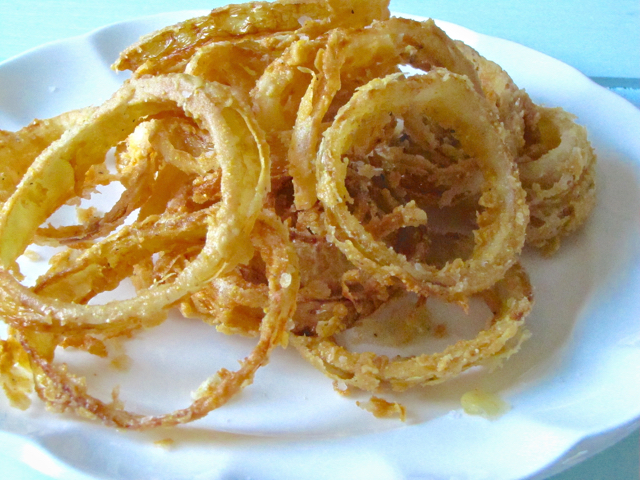 Making fried food at home is something that I do very rarely. I like to do it as a treat. Although, I definitely have a weakness for french fries, mozzarella sticks and the works. (Summertime drive-in's anyone?) So, as soon as I saw this recipe for homemade onion rings, I knew I had to make them. It was a perfect treat to end a very busy day.
These were a big hit. My husband in particular, loved these. They are crunchy on the outside, soft on the inside and full of flavor. Just the way they should be! This is a recipe that I will definitely use over and over again.
---
Recipe adapted from Barefoot Contessa at Home, by Ina Garten
Cornmeal-Fried Onion Rings
These homemade onion rings are superb. Marinated in buttermilk, then tossed with flour and cornmeal, then fried to perfection. They are worth every second of effort.
Ingredients
3 large yellow onions
2 cups buttermilk
kosher salt
ground black pepper
3 cups all-purpose flour
1/2 cup yellow cornmeal
1 quart vegetable oil
Instructions
Peel the onions and slice them width-wise 1/2- 3/4 inch thick. Separate them into rings. In a large bowl, combine the buttermilk, 1 1/2 teaspoons salt and 1 teaspoon pepper. Add the onion rings and toss well. Cover the bowl with plastic wrap and place in the refrigerator to marinate for at least 15 minutes, or up to 3 hours. In a medium bowl, whisk together the flour, cornmeal, 2 teaspoon salts and 1 teaspoon pepper. Set aside.

When you are ready to fry the onion rings, preheat the oven to 200ºF. Line a baking sheet with paper towels.

In a large pot (I used my le cruset), heat the oil until it reaches 350ºF on a candy thermometer. Working in batches, grab a small handful of marinated onion rings with tongs, dredge through the cornmeal mixture. Drop into the hot oil and fry for about 2 minutes until golden brown, turning them once with tongs. Making sure not to over crowd the pot, otherwise the temperature of the oil will drop. Place the fried onion rings on the prepared baking sheet. Sprinkle liberally with salt and place in the oven. Making sure the temperature of the oil is at 350ºF, continue the process until all the onion rings are fried. They will remain crisp in the oven for 30 minutes. Serve hot.