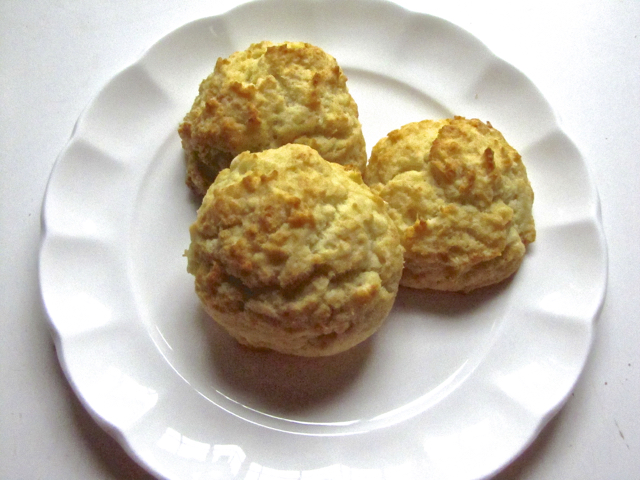 So, I totally have a thing for bread. It is definitely my favorite form of carbohydrate. Well, maybe pasta is.. Okay, it's a tie between bread and pasta. But anyway, about these biscuits.. They are my favorite, go-to recipe. They are so easy and fast to make. (My husband even managed to make them once!-Sorry hunny!) They make a great addition to any meal. Especially when you are looking for that comfort food.
I make these all the time. Sometimes we just have a salad and these biscuits for dinner. It makes a wonderful light summer meal. Slather with some butter, and we are in business! They are flaky, yet moist, just the way a perfect biscuit should be.
---
Recipe adapted from Two Peas and Their Pod, originally adapted from Cook's Illustrated
Buttermilk Drop Biscuits
These tender biscuits are perfect as a side dish to any meal. Serve warm with a slather of butter, and you'll want to keep going back for more.
Ingredients
2 cups unbleached all-purpose flour
2 teaspoons baking powder
1/2 teaspoon baking soda
1 teaspoon sugar
3/4 teaspoon salt
1 cup buttermilk
8 tablespoons unsalted butter, melted and cooled slightly
Instructions
Adjust oven rack to middle position and heat oven to 475ºF. Line a baking sheet with parchment paper or silpat. Set aside.

Whisk the flour, baking powder, baking soda, sugar, and salt together in large bowl.

Add the buttermilk and melted butter mixture to the dry ingredients and stir with a rubber spatula until just incorporated and batter pulls away from sides of bowl. Using a large ice cream scoop, scoop the batter onto the prepared baking sheet. Repeat with remaining batter, spacing biscuits about 1 1/2 inches apart. Bake until tops are golden brown and crisp, 12 to 14 minutes.

Transfer to wire rack and let cool 5 minutes before serving.