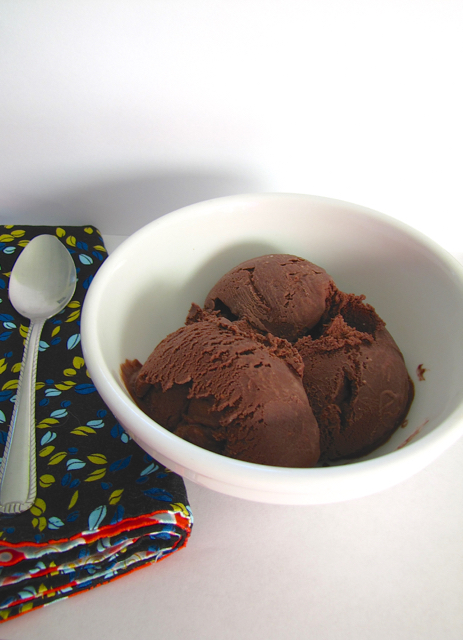 I am pretty sure that this has been the longest, coldest Spring….ever. Okay, maybe that was a little bit of an exaggeration. But, it really has felt like it. Cold, rainy and no sun. Looking at the bright side (har har), everything has become a brilliant green, and the flowers still have managed to be beautiful.
Regardless of the dreary weather, I am determined to still have my ice cream. In result, I made two different kinds in one day. I have found that you can hardly go wrong with homemade ice cream. It blows store bought completely out of the water.
This ice cream is no exception. It is creamy deliciousness- velvety chocolate with a swirl of raspberries. Yum yum! A little comfort for your day.
---
Recipe from The Perfect Scoop by David Lebovitz
Chocolate-Raspberry Ice Cream
This ice cream is wonderfully creamy and chocolatey with a hint of raspberry. The best flavor combination for the summer.
Ingredients
1 1/2 cups heavy cream
5 Tablespoons unsweetened cocoa powder
2/3 cup sugar
2 cups raspberries, fresh or frozen
Instructions
Whisk together the cream, cocoa powder, and sugar in a large saucepan. Heat the mixture, whisking frequently, until it comes to a full, rolling boil (it will start to foam up). Remove from heat and add the raspberries. Cover and let stand for 10 minutes.

Purée the mixture in a food processor or blender. If you wish, press the mixture through a fine mesh strainer to remove the seeds.

Chill the mixture throughly (preferably over night), then freeze it in your ice cream maker according to the manufacturer's instructions.