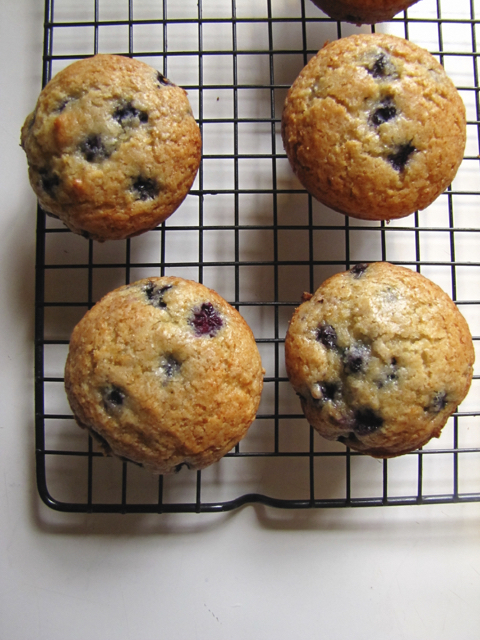 Every Sunday I like to mix things up for breakfast. It's generally the only morning that my husband is home, at least in the summer. So, I usually make something out of the ordinary. Sometimes it's muffins and eggs, or bacon, waffles… Nearly every week, my husband requests these blueberry muffins. I end up making a double batch most of the time, because between my husband and son, a whole batch will be eaten within the day!
These muffins are moist, blueberry-popping delicious! They will last several days stored in the refrigerator. These muffins are great at room temperature, warmed up, with butter or just by themselves, any way you like it! A welcome addition to any breakfast or brunch.
---
Recipe lightly adapted from Annie's Eats
Blueberry Muffins
These simple blueberry muffins are a quick and easy recipe to throw together. They will quickly become your favorite.
Ingredients
1 1/2 cups all-purpose flour
3/4 cup sugar
1/2 teaspoon salt
2 teaspoons baking powder
1/2 teaspoon ground cinnamon
1/4 cup oil
2 1/2 Tablespoons honey
1 large egg
1/2 teaspoon vanilla extract
~1/3 cup milk
1 heaping cup blueberries, fresh or frozen
Instructions
Preheat the oven to 400ºF. Grease or line 8 muffin wells.

In a medium mixing bowl, whisk together the flour, sugar, salt, baking powder and cinnamon. Place oil in a 1 cup measuring cup. Lightly whisk in the honey, egg and vanilla extract. Pour in enough milk to fill the cup. Stir in the oil mixture into the flour, just until incorporated. Gently fold in the blueberries.

Fill the muffin wells about 3/4 full. Bake for 18-22 minutes.