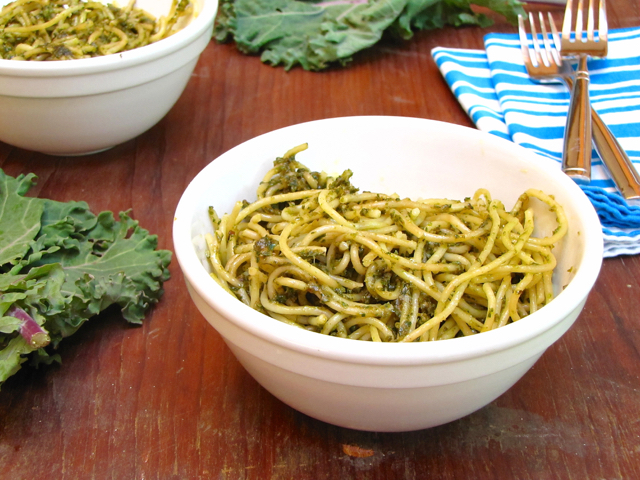 We were receiving a fair amount of kale in our CSA, so I had to quickly find all sorts of recipes to use it up with. Considering the fact that we have never had kale before this summer, I think I managed pretty well! I recently ordered a charge of new cookbooks (I felt like indulging in something for myself for once- even though cookbooks benefit all of us!), and this cookbook was included. I mean really, a whole cookbook dedicated to pasta recipes? That's a no brainer! We are all pasta fanatics in my family. My daughter especially. Pestos have sort of been my thing this year, so when I saw this recipe, I knew that I had to try it out.
I was not disappointed. In fact, it was a huge hit. My daughter couldn't wait to have leftovers the next day for lunch. I couldn't either! The sometimes bitter kale taste is covered by the basil and sunflower seeds, and of course the parmesan cheese. It's a sneaky way to get kids to eat a super food too. Little do they know how good it is for you…
---
Recipe adapted from Pasta Revolution, by America's Test Kitchen
Kale and Sunflower Seed Pesto
This pesto is nut free but still packed with flavor thanks to earthy summer kale, sunflower seeds and fresh basil. It's a great alternative to classic pesto.
Ingredients
2 cups packed chopped kale leaves
1 cup packed fresh basil leaves
1 1/2 ounces Parmesan cheese, grated
1/2 cup raw sunflower seeds, toasted
2 garlic cloves, chopped
1 teaspoon red pepper flakes
salt and pepper
1/2 cup olive oil
1 pound pasta
Instructions
In the bowl of a food processor, place the kale, basil, Parmesan cheese, sunflower seeds, garlic, red pepper flakes, and 1/2 teaspoon pepper. Pulse until finely ground, 20-30 pulses, scraping down the sides as needed. With the processor running, slowly pour the olive oil through the feed tube. Purée until completely incorporated. Add salt and pepper to taste. Transfer to a bowl and set aside.

Meanwhile, bring a large pot of water to a boil. Add pasta and cook until al dente. Reserve 3/4 cup pasta water before draining pasta. Return the pasta to the pot.

Stir several tablespoons of the reserved pasta water into the pesto to loosen it up, then stir the pesto into the pasta. Add more pasta water if necessary to reach desired consistency. Serve warm with extra parmesan cheese.