I am having a hard time believing that Memorial Day weekend is this weekend! It seems as if the month of May has flown by. The weekend before last, my two sisters and I took a quick trip to St. Augustine, Florida to visit an elderly relative (he is 95!) of ours who wasn't doing so well, sans kids! I haven't gotten away from home and the kids like that in, probably, years. It was hot and sunny down there, which was a wonderful and needed change! (It's been a very cold spring here in Maine. It has only just started warming up.) We had a great time with our relative, our hosts (my father's old college roommate), and we ate so much good food. It was hard to come home to cooking and washing dishes again. Ha! Even though we were down there to help our relative with whatever he needed, it was still nice to relax a little bit. We had some free time to walk around the old city of St. Augustine, and play in the pool. A time for me to recharge!
Once again, it seems that the blog gets pushed to the side as the weather warms up. It's amazing how busy things can get. My son celebrated his fifth birthday in the beginning of the month. Then t-ball started for the kids, we've been busy getting the garden ready to plant (a little late), and on any sunny days, we've been spending them outside! I love this time of year. The lilacs are in full bloom and smell amazing. It's hard to be grumpy when the world around me is turning green with a rainbow of colors in flowers, birds coming back for the summer, and the earth is waking up after the winter slumber.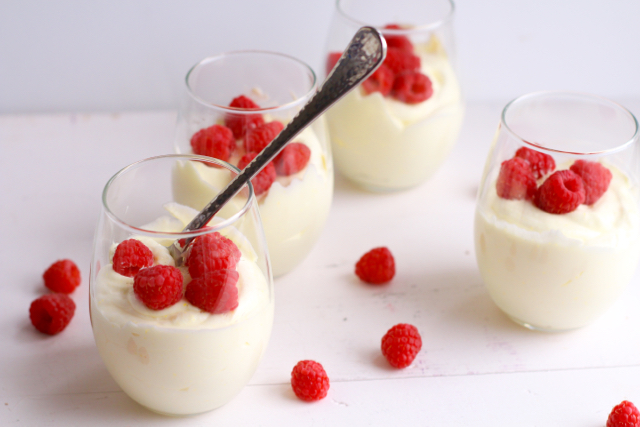 On to this AH-mazing dessert. A month or two ago, some friends of mine and I went out to a local restaurant for a really fun night out full of laughs and good food. Lemon mousse was on the dessert menu, so I couldn't pass it up. I devoured the mousse, and immediately wanted more. So, I was determined to re-create it at home! It wasn't as difficult as I thought it would be. But oh man, it is so delicious and creamy. Lemon is always so refreshing. This would be a great dish that you can make ahead of time to bring to this weekend's BBQ's or for any get together! Or all for yourself, I promise I won't judge. I barely wanted to share the ones I made!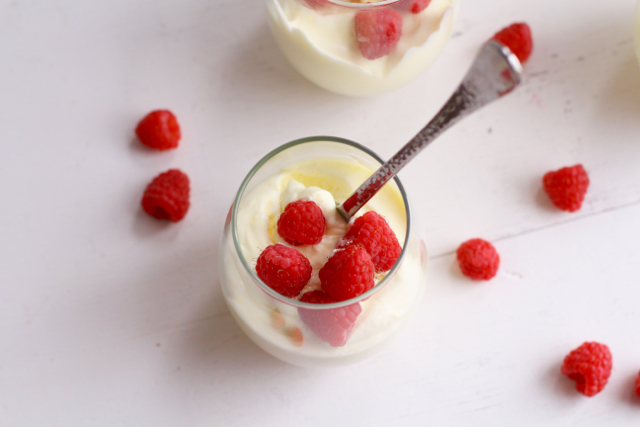 ---
Recipe from Williams-Sonoma
Lemon Mousse
This lemon mousse is super creamy, light and perfect for a spring dessert. Or any time of the year. Impress your guests (or yourself!) with this simple yet superb dessert. 
Ingredients
2 1/4 teaspoons (1 package) unflavored powdered gelatin
1 cup granulated sugar
1/8 teaspoon kosher salt
2 teaspoons finely grated lemon zest
2/3 cup fresh lemon juice (from about 6-8 lemons)
4 egg yolks
2 cups heavy cream
1/4 cup confectioners' sugar
fresh fruit for topping (any combination of berries would work well!)
Instructions
Pour 1/4 cup water into a saucepan and sprinkle with the gelatin. Let stand until the gelatin softens and slightly thickens, 5 to 10 minutes. Meanwhile, prepare the ice bath. Fill a large bowl with cold water and ice cubes. Set aside. Stir in the granulated sugar, salt, lemon zest, lemon juice and egg yolks into the gelatin mixture. Cook over medium heat, whisking constantly, until the mixture thickens and the gelatin melts completely, 8 to 10 minutes. Do not allow it to boil. Set the saucepan in the ice bath until the mixture is cool to the touch. Remove the pan from the ice bath and let sit at room temperature while preparing the whipped cream.

In the bowl of an electric mixer, beat the cream and confectioners' sugar on medium speed until soft peaks form, 4 to 6 minutes. Have ready 6-8 wine glasses or jars. Using a rubber spatula, fold in the lemon mixture until smooth. If desired, place a few berries in the bottom of each glass. Spoon the mousse into the glasses. Cover with plastic wrap and refrigerate until chilled, 2 to 3 hours, or overnight. Top with fresh fruit right before serving.