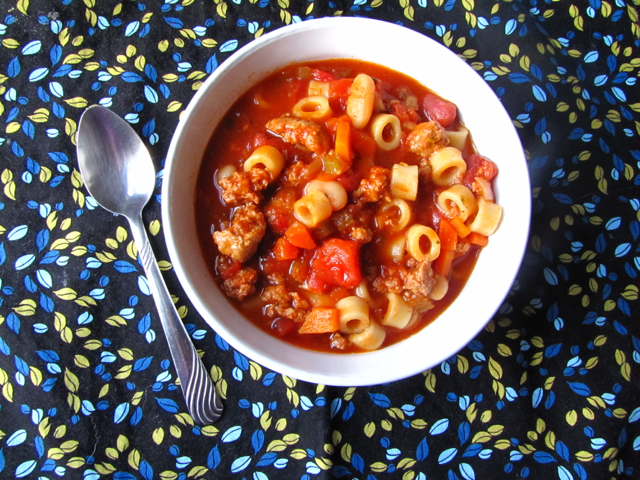 My poor son and husband have had a nasty cold for about 3 weeks now, and I thought that I might get lucky and it would skip me for once. But, alas, it finally caught up with me this past weekend. Sore throat and congestion made me want some feel-good soup.
This soup definitely fit the bill. It's hearty, chock full of beans, vegetables, sausage and pasta. To me, that is a win all around. And it makes plenty of leftovers, which makes perfect lunches for most of the week!
---
Recipe adapted from Annie's Eats
Pasta e Fagioli
Cook Time:
1 hour
30 minutes
Total Time:
1 hour
40 minutes
This soup is a fabulous, comfort food soup for a cold night. Filled with sausage, beans and some veggies, it hits all the high spots.
Ingredients
2 Tablespoons butter, divided
20 oz. sausage, casings removed
1 medium onion, finely chopped
4 cloves garlic, minced
4 carrots, peeled and thinly sliced
4 stalks celery, thinly sliced
1 28oz. can diced tomatoes
1 can red kidney beans, drained and rinsed
1 can cannellini beans, drained and rinsed
32 oz. (or more if desired) of reduced, or no sodium beef broth
1 28oz. can tomato sauce
2 teaspoons dried parsley
1/2 teaspoon dried basil
1 teaspoon salt
6 oz. small pasta (I used ditalini, it's so cute!)
Instructions
Melt 1 tablespoon of butter in a large stockpot over medium-high heat. Add the sausage to the pot and brown, crumbling as it cooks. Once the sausage is browned, remove it from the pot with a slotted spoon and transfer to a bowl. Remove an excess grease.

Melt the remaining tablespoon of butter in the pot. Add the onion, garlic, carrots and celery, and sauté over medium heat until the vegetables are soft, 8-10 minutes. Return the sausage to the pot, add the can of diced tomatoes with their juices, stir briefly, and simmer for 10 minutes.

Add both beans, broth, and tomato sauce to the pot. Add the parsley, basil, and salt. Stir well. Increase the heat to high and bring to a boil. Once boiling, reduce the heat to low, cover and simmer for 30 minutes.

Then, add the pasta, partially cover, and simmer for another 30 minutes. Adjust seasonings to taste, and serve.