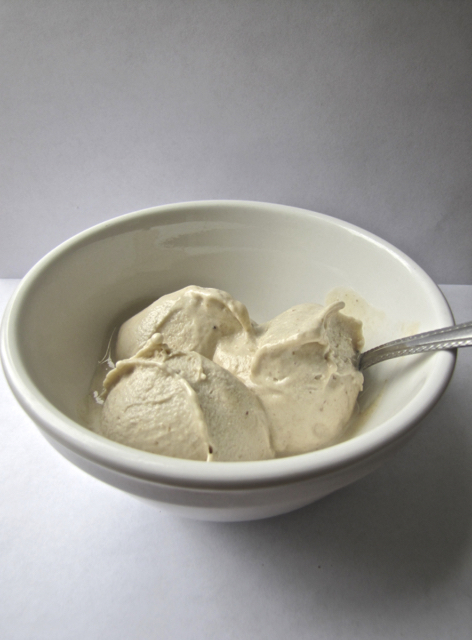 Ice cream is something I cannot stay away from. I mean when the ice cream shops open in March, I will be standing in line with my mittens and winter jacket on waiting for the creamy goodness. I eat ice cream all year long, no matter the weather! So, when I finally purchased the ice cream maker attachment for my Kitchen Aid mixer, I went to town trying new flavors.
This ice cream is for total banana lovers. Roasting the bananas in brown sugar gives them a delicious caramel taste and a beautiful deep golden color. And it makes the house smell so good! If you are new to making ice cream, this is a great recipe to start with because you don't have to deal with finicky egg yolks! This ice cream is great on its own, but would also be good with caramel drizzled over the top…mmm!
---
Recipe from The Perfect Scoop by David Lebovitz
Roasted Banana Ice Cream
This roasted banana ice cream takes banana flavor to a whole new level. The bananas become wonderfully sweet, almost caramelized like. This makes a great, simple ice cream.
Ingredients
3 medium-sized ripe bananas, peeled
1/3 cup packed light brown sugar
1 Tablespoon butter, cut into small pieces
1 1/2 cups whole milk
2 Tablespoons granulated sugar
1/2 teaspoon vanilla extract
1 1/2 teaspoons freshly squeezed lemon juice
1/4 teaspoon coarse salt
Instructions
Preheat the oven to 400ºF. Slice the bananas into 1/2-inch pieces and toss them with the brown sugar and butter in a 2-quart baking dish. Bake for 40 minutes, stirring just once during baking, until the bananas are browned and cooked through.
Scrape the bananas and the thick syrup in the baking dish into a blender or food processor. Add the milk, granulated sugar, vanilla, lemon juice, and salt, and purée until smooth.
Chill the mixture thoroughly in the refrigerator (I did over night, which works the best I have found), then freeze it in your ice cream maker according to the manufacturer's instructions. If the chilled mixture is too thick to pour into your machine, whisking it will thin it out.