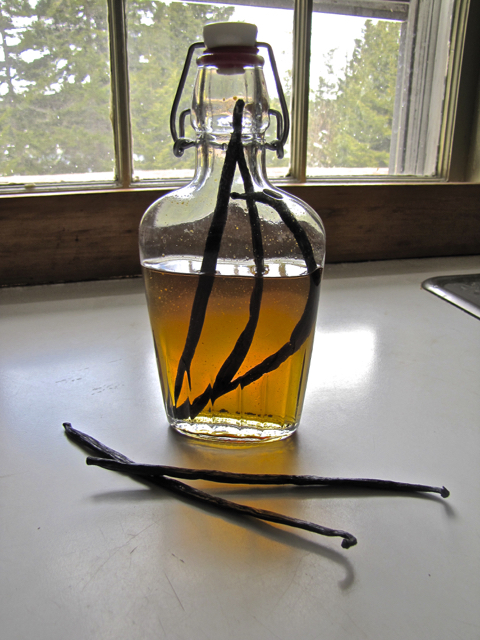 When I first learned how to make vanilla extract, I was jumping with joy. Vanilla extract is something I use quite frequently in the kitchen, so I had to purchase it regularly. The good stuff is pricey, which really cuts into the food bill over time. Making your own extract saves a lot of money. I haven't bought it from the store for over a year now!
There are great vanilla beans for sale on Amazon, at a fantastic price. I have made this as a gift for friends over Christmas. The beans last a really long time (mine are still great after a year!). I store my vanilla beans in my baking cabinet in a tall canning jar, which keeps them air tight. I generally rotate 2-3 jars, which works out perfectly for the amount I use.
---
Recipe from Annie's Eats
DIY Vanilla Extract
Homemade vanilla extract is incredibly simple. It's well worth the wait to have your homemade extract on hand for all your baking.
Ingredients
8 ounces cheap vodka (I use Orloff)
3 whole vanilla beans
air tight jar or container for storage
Instructions
Split the vanilla beans lengthwise with a sharp knife, making sure not to go all the way through (it's okay if you go all the way through a little). Open the beans down the length of the seam until you see the tiny black seeds in the center. Place in the jar and pour the vodka in. Close tight and give it a good shake. Store in a cool and dark area for about two months. Make sure to give it an occasional shake, about once a week or so. Now it's ready to be used!
Don't worry if there are little black specs floating around, it's just the seeds that give it the flavor and smell- the good stuff!
Notes
This recipe can easily be doubled or tripled to your liking.