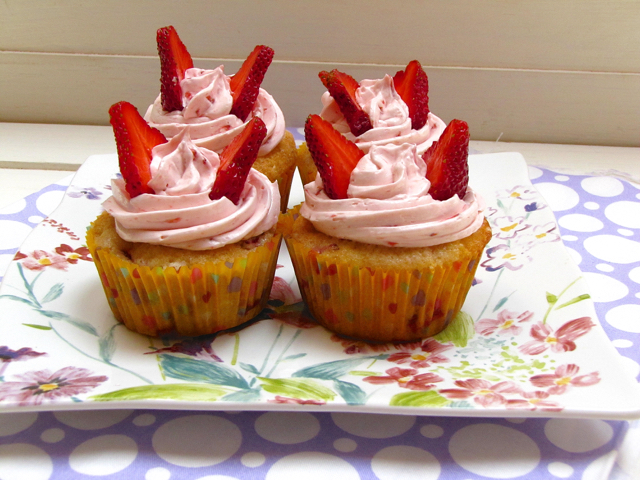 In celebration of having a new baby, I decided that cupcakes were in order. We have a bunch of ripe strawberries in the garden, so I thought these would be perfect. Or, I should say we had ripe strawberries, because the older kids are out there daily eating them, then coming in with the evidence all over their mouths, fingers and shirts. Too cute.
These cupcakes are delicious. Moist, full of strawberry chunks. Perfect! The meringue frosting, I wasn't so sure about at first. But, I totally was digging it by my second cupcake. I like how it isn't super sweet like confectioner's sugar frostings tend to be. And the fact that it has strawberry purée in it- yes! And they are pretty to boot!
---
Recipe from Annie's Eats, originally from Martha Stewart's Cupcakes
Strawberry Cupcakes
These strawberry cupcakes are filled with fresh berries and yield a tender cake. The meringue frosting is worth the extra time for a bold strawberry flavor that is thick and creamy.
Ingredients
For the cupcakes
1 cup plus 2 Tablespoons all-purpose flour
1/4 cup cake flour
1 1/2 teaspoons baking powder
1/2 teaspoon salt
8 Tablespoons unsalted butter, at room temperature
1 cup plus 2 Tablespoons sugar
3/4 teaspoon vanilla extract
2 large eggs plus 1 large egg white
1/2 cup milk
1 1/4 cups finely chopped fresh strawberries
For the frosting
3/4 cup fresh strawberries rinsed, hulled and coarsely chopped
2 large egg whites
1/2 cup plus 2 Tablespoons sugar
12 Tablespoons unsalted butter, at room temperature
For garnish
Additional fresh strawberries (optional)
Instructions
To make the cupcakes, preheat the oven to 350ºF. Line cupcake pans with paper liners. In a medium bowl, combine the all-purpose flour, cake flour, baking powder and salt; whisk to blend. In the bowl of an electric mixer, combine the butter, sugar and vanilla. Beat on medium-high speed until light and fluffy, about 3 minutes. Beat in the eggs and egg white one at a time, mixing well after each addition and scraping down the sides of the bowl as needed. With the mixer on low speed, add the flour mixture in two additions alternating with the milk, mixing each addition just until incorporated. Gently fold in the chopped strawberries with a spatula.

Divide the batter between the paper liners, filling each about 3/4-full. Bake until light golden and a toothpick inserted in the center comes out clean, about 25-28 minutes, rotating the pans halfway through baking. Allow to cool in the pans a few minutes, then transfer to a wire rack to cool completely.

To make the frosting, place the strawberries in a food processor or blender. Purée until completely smooth. Combine the egg whites and sugar in a heatproof bowl set over a pot of simmering water. Heat, whisking frequently, until the mixture reaches 160ºF and the sugar has dissolved. Transfer the mixture to the bowl of a stand mixer fitted with the whisk attachment. Beat on medium-high speed until stiff peaks form and the mixture has cooled to room temperature, about 8 minutes. (The bowl should be cool to the touch.) Reduce the speed to medium and add the butter, 2 tablespoons at a time, adding more once each addition has been incorporated. If the frosting looks soupy or curdled, continue to beat on medium-high speed until thick and smooth again, about 3-5 minutes more (or longer - don't worry, it will come together!) Blend in the strawberry puree until smooth and completely incorporated, scraping down the sides of the bowl as needed.

Fill a pastry bag fitted with a decorative tip with the frosting.Frost cooled cupcakes as desired, and garnish with fresh berries or berry slices.