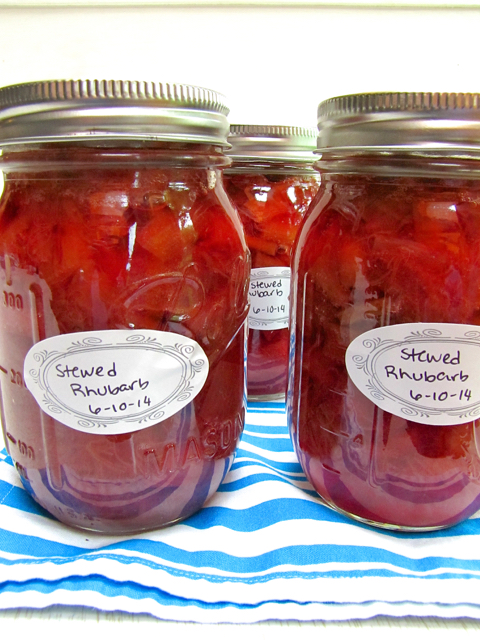 One last rhubarb recipe, I swear! I still had plenty of rhubarb left in the garden, so I wanted to preserve it more than in just jam. So, when I saw this recipe, I thought it would be perfect. It is delicious over vanilla ice cream, or yogurt. I could eat it daily if I didn't mind using all the jars I canned immediately! I am definitely going to try to save a jar into winter to remind me that summer does exist when the wind is howling and the snow is coming down. Summer in a jar. Perfect!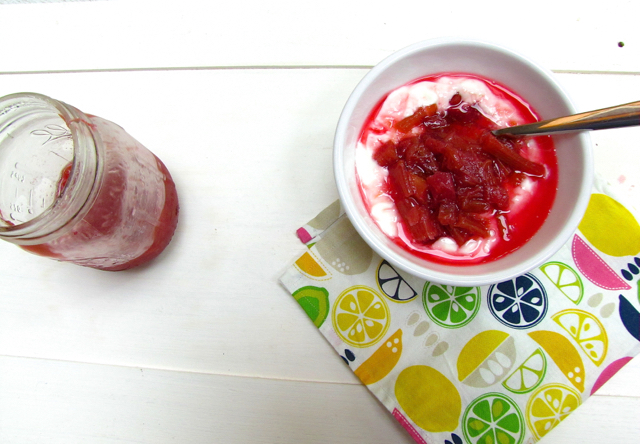 ---
Recipe from Ball Blue Book Guide to Preserving
Stewed Rhubarb
Yield:
1 quart to 2 pounds
This simple ratio is a fabulous way to preserve rhubarb so you can enjoy it all year round. Spoon over yogurt, ice cream or anything of your choosing!
Ingredients
1 1/2 to 2 pounds rhubarb per quart
granulated sugar
Instructions
Cut rhubarb stalks into 1-inch pieces. Measure the rhubarb in a large measuring cup. For each quart of rhubarb measured, add 1/2-1 cup sugar (depending on how sweet you want it).

In a large bowl, stir together the rhubarb and sugar until well coated. Let stand for 3-4 hours in a cool place.

Place the mixture in a large pot. Bring slowly to a boil. Boil for 30 seconds. Pack the hot rhubarb and syrup in hot jars, leaving 1/2-inch headspace.

Using your preferred method, can and preserve jam in sterilized jars, processing pints and quarts for 15 minutes in a boiling-water canner.