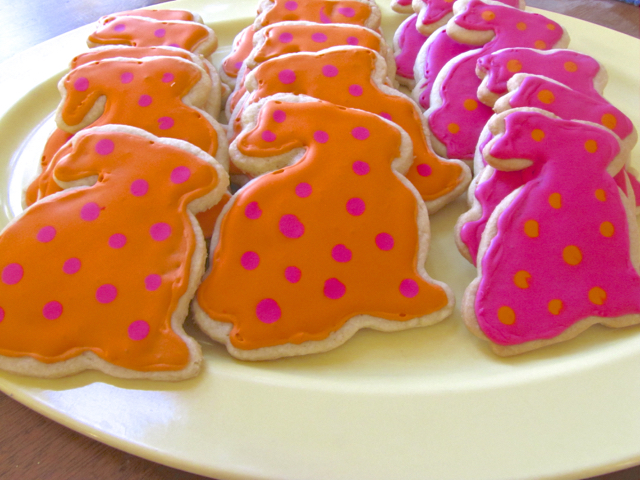 A few days ago, it was my daughter's daycare Easter party. So, of course, I had to make something properly themed. I had limited ingredients in the house and didn't want to run to the store. Luckily, I had everything in the kitchen needed to make these! I couldn't resist these adorable bunny cookies! This recipe is very simple to throw together. I make these cookies for all occasions.
---
Recipe from Joy of Baking
Sugar Cookies
This simple sugar cookies are hinted with an almond flavor, tender and perfect for frosting. A fun cookie for any time of the year.
Ingredients
1 cup unsalted butter, softened
1 cup confectioners' sugar
1 large egg
1 1/2 teaspoons almond extract
1 teaspoon vanilla extract
1 teaspoon salt
2 1/2 cups all-purpose flour
Instructions
In the bowl of an electric mixer, beat the butter until creamy. Mix in the confectioners' sugar on low speed. Slowly mix in the egg, almond extract, vanilla, salt and flour. Mix until thoroughly combined. Wrap the dough in plastic wrap, and refrigerate until firm, 45 minutes to one hour.
Preheat the oven to 375º. Line or grease baking sheets.
Roll the chilled dough onto a well-floured surface to about 1/4 inch thickness. Cut out into desired shapes and sizes. Place cookies on prepared baking sheets. Bake for 8-10 minutes, making sure the cookies do not brown. Let cool completely. Decorate as desired.