I don't understand why they don't sell banana ice cream in the stores. I don't know about you, but I love banana ice cream. It is definitely a pronounced flavor, but that's what makes it so great. The idea of caramelized white chocolate is just brilliant. I had a jar of coconut oil sitting in my cupboard from Trader Joe's that I got ages ago for one small thing. When I was flipping through this cookbook, I knew that this would be an excellent way to use some of it!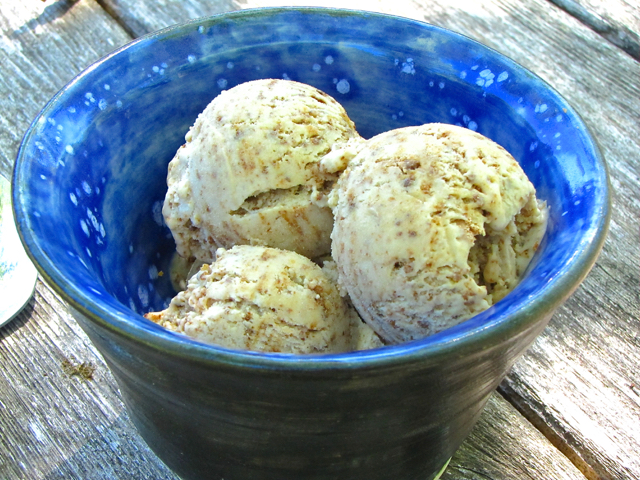 This ice cream is full of flavor and the caramelized white chocolate puts it over the top. Out of the three ice creams I made in one day, this was my daughter's favorite. I definitely look forward to a scoop (or three) of this after dinner!
---
Recipe adapted from Jeni's Splendid Ice Creams at Home
Banana Ice Cream with Caramelized White Chocolate Freckles
Bananas make a sweet ice cream filling that is swirled into an egg-free ice cream base and mixed with caramelized white chocolate. The ice cream you've been looking for your whole life.
Ingredients
For the ice cream
2 cups whole milk
1 Tablespoon plus 1 teaspoon cornstarch
1 1/2 ounces (3 Tablespoons) cream cheese, softened
1/8 teaspoon salt
1 1/4 cups heavy cream
2/3 cup sugar
2 Tablespoons light corn syrup
1 vanilla bean, split in half
2 ripe bananas, chopped
For the caramelized white chocolate
12 ounces white chocolate, chopped
1/2 cup coconut oil
Instructions
In a small bowl, whisk together the cornstarch and 2 tablespoons of the milk to create a slurry.

In a large bowl or plastic container, mix the cream cheese and salt together until smooth.

In a medium saucepan, combine the remaining milk, heavy cream, sugar and corn syrup. Scrape out the seeds from the vanilla bean and add to the pot, including the bean. Bring to a rolling boil over medium-high heat. Let boil for 4 minutes, stirring occasionally. Remove from the heat and whisk in the cornstarch mixture. Place the saucepan back over the heat and bring to a boil again over medium-high heat. Stir constantly with a heatproof spatula until slightly thickened, about 1 minute.

Whisk the hot milk mixture into the cream cheese mixture until smooth.

Place the chopped bananas in a food processor and pulse until smooth. Stir the bananas into the ice cream mixture. Cover with plastic wrap and place in the refrigerator to chill, several hours or over night.

Meanwhile, make the caramelized white chocolate. Combine the white chocolate and coconut oil in a small saucepan. Set over medium-low heat stirring until melted and smooth. Continue to cook, stirring constantly until the mixture becomes a deep amber color, 12-15 minutes. Make sure to stir constantly, or else the chocolate will burn. Remove from the heat and let cool until ready to use.

When ready to churn, remove the vanilla bean and discard, then freeze in your ice cream maker according to the manufacturer's instructions. In the last few minutes of churning the ice cream, drizzle in about half of the caramelized white chocolate. Store in the freezer.

The remaining caramelized white chocolate can be stored in a jar in the fridge up to a month.