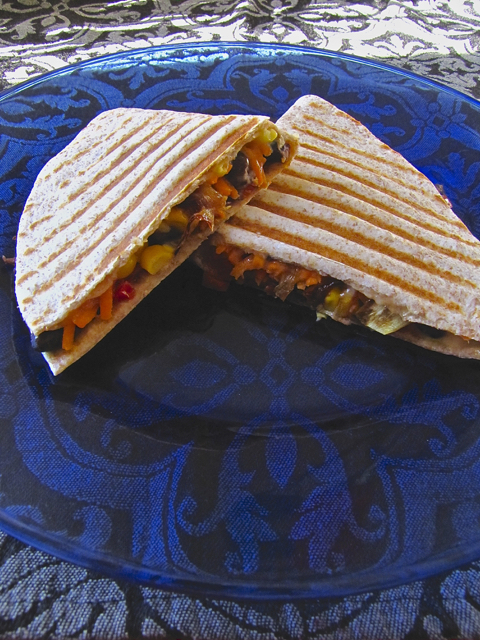 Black beans are something that I have come to love. They add such a wonderful meaty flavor with a lovely texture to any meal. And they are good for you-win!
I had plans for a different meal a few nights ago, but I had really been craving quesadillas lately. So I ditched the other meal planned and cooked these up. They are very filling, so I tend to have them as the main course with a side of salsa. I find them fun because you can customize each quesadilla to each persons liking. I cook them in my panini press (best purchase ever!), which takes no time at all, but you can easily do it in a skillet.
---
Island Bakes Original
Black Bean Quesadillas with Caramelized Onions
These quesadillas are vegetarian, but incredibly filling and satisfying. Black beans, cheese and veggies, these are a fun way to mix up dinner.
Ingredients
6 Tablespoons grapeseed oil (or canola or vegetable oil), divided
2-3 medium onions, peeled and thinly sliced
1 teaspoon salt
1 red or green bell pepper, diced
2 garlic cloves, minced
1 can black beans, rinsed and drained
1 teaspoon garlic powder
2/3 cup corn, fresh or frozen, cooked
2 medium carrots, peeled and shredded
1 cup of cheese, shredded (I used sharp cheddar)
8-inch tortillas (I used whole wheat)
Instructions
In a medium skillet over medium-high heat, heat 5 tablespoons grapeseed oil until shimmering. Add the sliced onions and salt. Stir well. Cook, stirring occasionally, until golden and caramelized, about 15-20 minutes. Turn the heat down if the onions start to burn. After the onions are caramelized, transfer to a bowl and set aside.

In the same skillet, over medium-high heat, heat 1 tablespoon of the grapeseed oil until shimmering. Add the bell pepper and garlic. Cook, stirring occasionally, until softened, about 6-8 minutes. Stir in the black beans and garlic powder until warmed through, about 3-5 minutes. Transfer to a bowl and set aside.

Wipe out the same skillet, or heat up a panini press. Time to assemble the quesadillas! If it is easier for you, combine all the ingredients, except the cheese, in a large bowl. Spread the vegetables over one half of the tortilla, topping with a handful of cheese.

Fold the top over the vegetables and cook in the skillet or panini press, until the cheese is melted. If cooking in the skillet, turn the quesadilla over half way through, so both sides of the tortilla get crisp. Cut in half and serve with salsa or sour cream.