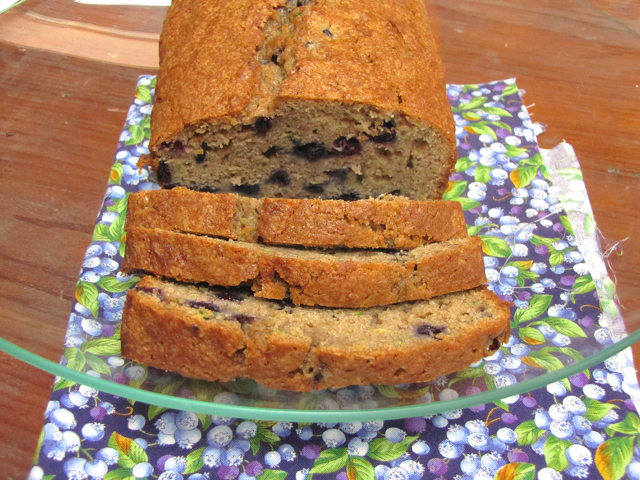 We have been receiving one or two zucchinis in our CSA box just about weekly. Now that I have discovered the love of zucchini bread, I have actually been looking forward to getting them. I set them aside specifically for bread. Since blueberry season is dwindling down, I thought it would be perfect to incorporate fresh Maine blueberries with fresh, organic zucchini!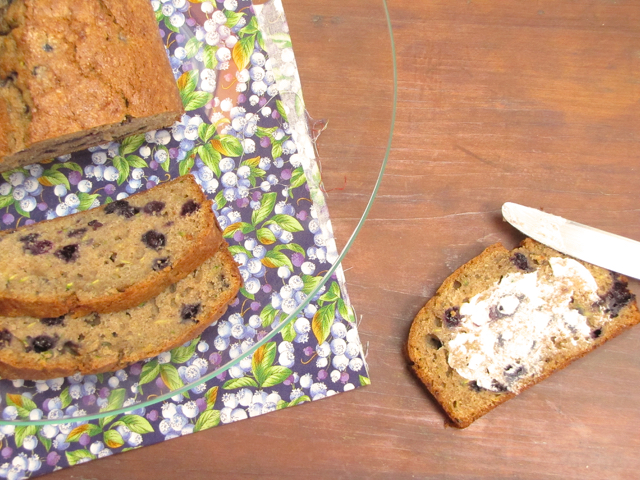 This recipe did not disappoint. The zucchini kept it perfectly moist and the blueberries were a wonderful burst of flavor. I doubled the recipe to bring one loaf to my sister's baby shower since it was a brunch deal. I don't think I brought any bread home! I am glad that I saved one loaf at home. My kids particularly loved it. You could definitely double the recipe and freeze one loaf. A perfect way to preserve summer!
---
Recipe from My Baking Addiction
Blueberry Zucchini Bread
Cook Time:
1 hour
5 minutes
Total Time:
1 hour
13 minutes
Zucchini bread is brought to a whole new level with fresh summer blueberries. Tender and moist yeast-free bread that is perfect served warm with a slather of butter.
Ingredients
2 eggs
1/2 cup vegetable oil
2 teaspoons vanilla extract
1/2 cup granulated sugar
1/2 cup brown sugar, lightly packed
1 cup shredded zucchini
3/4 cup all-purpose flour
3/4 cup whole wheat flour
1/2 teaspoon kosher salt
1/2 teaspoon baking powder
1/8 teaspoon baking soda
1 1/2 teaspoons ground cinnamon
1 cup fresh blueberries
Instructions
Preheat oven to 350º F. Lightly grease an 8 1/2 x 4 1/2 loaf pan.

In a large bowl, whisk together the eggs, oil, vanilla, and sugars. Fold in the zucchini. Stir in the flours, salt, baking powder, baking soda, and cinnamon until fully incorporated. Gently fold in the blueberries. Transfer to the prepared loaf pan.

Bake for 55-65 minutes in the preheated oven, or until a knife inserted in the center of a loaf comes out clean. Cool 20 minutes in the pan, then turn out onto wire racks to cool completely.