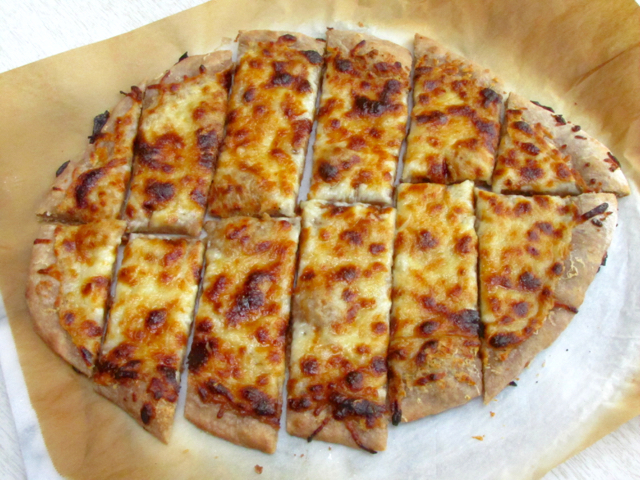 As you all probably know by now, I am a huge pizza fan. In fact, my whole family is. We probably eat it once a week, either from the store or homemade. Something about pizza is comforting, delicious and fun at the same time. I think what contributes to my love of pizza is, when I was a kid my mom worked an hour and a half away from home as a nurse practitioner, so she would come home late most nights (the downside of living on an island in the middle of nowhere). Therefore, it was my dad and I a lot (my older sibs left home as soon as they could, and I am a bit younger than all of them). My dad runs the local newspaper, so deadline day he would always be later and never have the energy to cook a decent meal for us. So, it was a special night for pizza. He'd always get meatlovers, and a small cheese for me. And cape cod chips. Can't forget the chips! My love of pizza has continued into adulthood. (Wait, I am an adult!?) And my daughter has definitely inherited the gene of pizza love.
Breadsticks are something my husband will always order if we go to a pizza joint. So that inspired me to find a recipe online that I could make at home. Much healthier and tastier! I love the garlic addition in these breadsticks. It makes them oh so good. I generally make two of these since one pizza isn't enough for the four of us anymore. These make a wonderful finger food for a party or movie night with the family. Or, serve alongside a salad and you have yourself a meal!
---
Recipe adapted from Lauren's Latest
Cheesy Garlic Breadsticks
These breadsticks are super cheesy with a hint of garlic. They are great served hot and dipped in sauce.
Ingredients
1 lb. pizza dough, store-bought or homemade
3 Tablespoons salted butter, at room temperature
2 cloves garlic, crushed
1/2 teaspoon garlic powder
1/2 cup grated Parmesan cheese
8-10 oz. shredded mozzarella
marinara sauce for dipping (optional)
Instructions
Preheat the oven to 500ºF with a pizza stone inside. If you don't have a pizza stone, use an upside down cookie sheet.

Mix butter and garlic in a small bowl and set aside.

Roll pizza dough out into a 12-inch circle on a lightly floured surface. Transfer to a cookie sheet lined with parchment paper (easier for transferring into the oven).

Spread the butter and garlic mixture over dough, then sprinkle the garlic powder evenly over the top. Sprinkle with the Parmesan and mozzarella cheeses.

Transfer the pizza on the parchment paper to the preheated stone and bake until golden and bubbly; 10-15 minutes. Slice into sticks and serve warm with marinara dipping sauce, if desired.