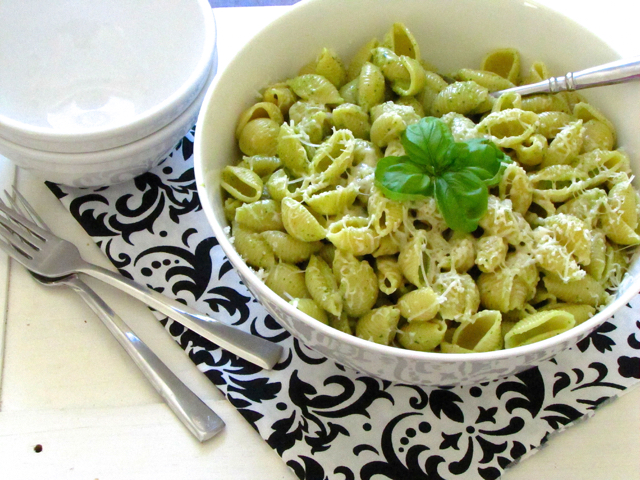 So, this is my last pesto recipe from that amazing pesto I made recently. My new favorite! I know that a lot of people make pesto pasta, but I am a bit new to the pesto world. I am so glad to have joined it! This recipe was something I made up on a whim. It is so amazing. My daughter ate a giant bowlful, then asked for more! It is incredibly creamy, pesto-y and delicious! I could eat this daily.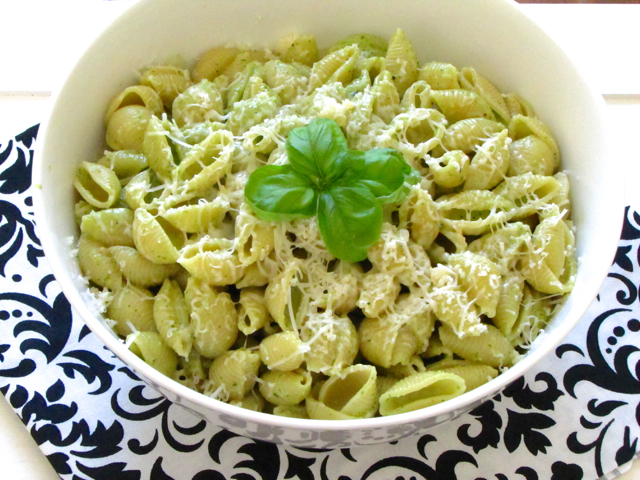 This recipe makes for a wonderfully, simple and quick weeknight meal. Or a filling lunch! It takes only minutes to whip up. Great for those nights you don't really feel like cooking, or don't have a lot of time for an elaborate meal. I may need to go make more of this…
---
Island Bakes Original
Creamy Pesto Pasta
Spicy, earthy pesto is mixed with a cheesy sauce that results in a satisfying pasta dish that is wonderful comfort food for all times of the year.
Ingredients
16 oz. desired pasta (I used shells, but almost anything would work)
1/2 cup pesto, store-bought or homemade
1/2 cup heavy cream
1/2 cup grated parmesan cheese, plus more for serving
Instructions
Bring 4 quarts of salted water to a boil in a large pot. Cook the pasta according to package directions. Drain and place back in the pot and cover to keep warm.

Meanwhile, heat the heavy cream in a medium saucepan until just simmering. Stir in the pesto and parmesan cheese. Stir until melted and creamy.

Mix the cooked pasta in with the pesto, stirring until well coated. Scoop into bowls while still hot and serve with additional parmesan cheese.