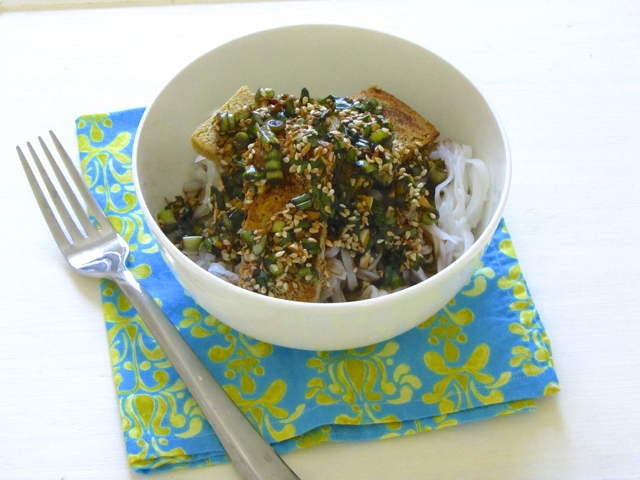 For several years, I have worked off and on for Kyra, when she used to run Lily's Café next door to my house. I started working there at a young age being a food runner. I have done just about all the positions there, expect run the cash register. Dish washing, food prep and cook, you name it! I have always regarded Kyra as my mentor, sort-of idol, but our relationship has moved onto more than just employee-boss. We sew, cook for fun and chat together frequently. We have developed a wonderful friendship that I treasure.
Saying all that, working for Kyra introduced me to a lot of new things. She wouldn't take no for an answer, so I stepped out of my picky comfort zone and tried so many different foods. A lot of the time, I was pleasantly surprised to find that I liked a lot of "strange" foods. (Strange being in my book something that I would never try ordinarily.) This dish is definitely a big one for me.
Since both of my sisters are vegetarians, I grew up watching them cook boring and not very good tasting tofu. I have always been turned off by it. Something about the soft texture and taste always made me run in the other direction. That was until I tried Kyra's method of cooking tofu. This became my new favorite dish. Whenever she had it on the menu at the Café, I would always secretly hope there would be some leftover at the end of the night so I could have some.
This tofu is anything but boring. It has a wonderful slightly crunchy texture, that goes over the top when served with the amazing garlic sauce and rice noodles. The secret tip here is to freeze the tofu completely and then thaw right before using! Who would have thought? The garlic sauce adds a wonderful depth to the whole dish. It is the only way I will eat tofu! (And will probably be the only tofu recipe on this blog) Even my son ate some of the tofu willingly!
---
Recipe from Lily's Café Cookbook, Revised Edition by Kyra Alex
Pan Seared Tofu over Rice Noodles with Garlic Sauce
This simple rice noodle dish is packed with a flavor punch. Tofu rounds out the meal by making it filling and satisfying.
Ingredients
12 oz. rice noodles
8 oz. tofu, frozen completely, thawed and drained, then cut into 1/4-inch slices from the shorter end
canola oil or grapeseed oil
soy sauce
For the garlic sauce
1 Tablespoon minced garlic
3/4 cup chopped scallions
2 Tablespoons sesame seeds, toasted
1/2 cup plus 1 Tablespoon soy sauce
3 Tablespoons toasted sesame oil
1 Tablespoon crushed red pepper flakes (or less if you don't like a lot of kick)
1 1/2 teaspoons granulated sugar
Instructions
To make the garlic sauce, place all the ingredients in a medium bowl. Whisk until well combined. Cover and place in the refrigerator until ready to use.

Bring a large pot of salted water to a boil. Add the rice noodles and cook according to package directions. Once cooked, drain and set aside.

In a large skillet, add enough canola oil to cover the bottom. Heat over medium heat until almost smoking. Add the tofu slices in a single layer. Sear until golden, then flip and continue to cook until the other side is golden, 3-5 minutes per side. Add 1 tablespoon soy sauce to the pan to glaze the tofu. Remove from the heat.

Place the cooked noodles on a place, top with the cooked tofu and then spoon garlic sauce over the top. Serve immediately.

Whatever tofu is not used, leave uncooked. Cover and refrigerate until ready to be cooked.