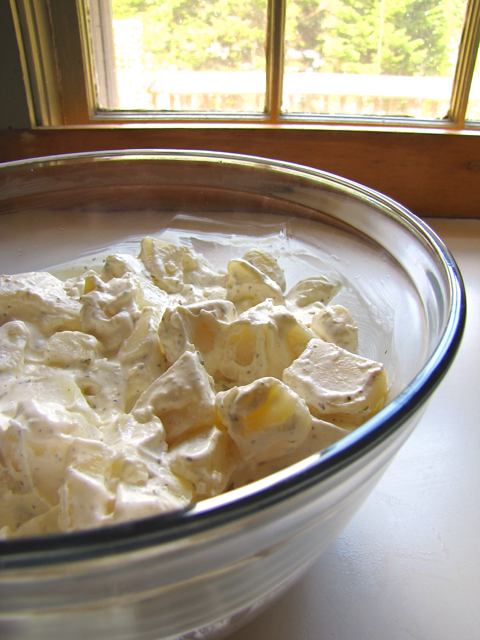 This recipe comes from the former Lily's Cafe. It was always served alongside the very popular sandwiches. People always wanted extra and it was always a big hit. My picky self never dared to try it until I ended up working at the cafe many years ago. After that, you could hardly keep me out of it!
Here's to the greatest potato salad you will ever have. I know that for a fact because I hate potato salad, but I absolutely love this recipe. Nothing is too overpowering and there aren't any weird ingredients thrown in. Bring this to your next BBQ, and everyone will be raving about it.
---
Recipe from Lily's Cafe Cookbook, Revised Edition by Kyra Alex
Lily's Potato Salad
The only potato salad recipe you'll ever need. Wonderfully creamy, perfectly spiced- it will be your summer favorite.
Ingredients
10 red potatoes, cut into 1-inch cubes
3/4 cup mayo
3/4 cup sour cream
1 1/2 teaspoons salt
1/4 teaspoon pepper
3/4 teaspoon basil
1/2 teaspoon granulated garlic
Instructions
Place potatoes in a large pot, cover with water. Bring to a boil over high heat. Turn the heat down to medium-low and simmer until tender when poked with a fork. Drain the potatoes and let cool to room temperature.

In a small bowl, whisk together the remaining ingredients. Place the potatoes in a large bowl. Mix the mayo mixture into the potatoes, and mix until well combined. Serve immediately or store covered in the refrigerator.