Cheesecake is something I hated as a kid. Now, as an adult, I can't get enough of it! I would make it more often if my husband liked it. I can't quite justify making a cheesecake, just to be stuck eating the whole thing by myself. Although, I should probably be happy about that?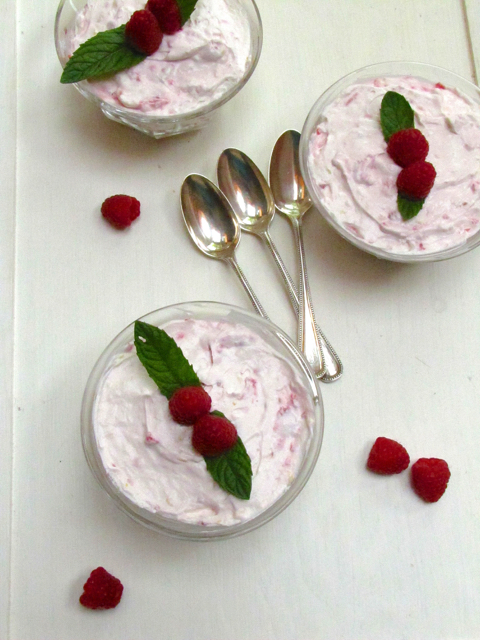 I have had this recipe bookmarked for a really long time, but for some reason, never got around to making it. So, last week when I was menu planning, I made sure to put the needed ingredients on the shopping list. Pregnancy craving made me feel better about making it. And the fact that my sister was up using the internet for work. So I couldn't resist sharing them with her.
I am serious when I say that you should go make these right now. They are incredibly easy and incredibly delicious. Creamy, fresh and addicting. Perfect for summer! You could definitely make these in jars with a lid and take them on a picnic or to the beach for a little treat. I had some in the refrigerator for three days and they still tasted amazing. The graham crackers didn't get soggy either. Perfect! This would be a wonderful addition to any BBQ this summer. Or maybe just a little treat for yourself?
---
Recipe from My Baking Addiction
No Bake Raspberry-Lemon Cheesecake
This creamy, no-bake cheesecake is bursting with fresh summer raspberries. It's a lovely, refreshing treat to have in the summer.
Ingredients
For the crust
3/4 cup graham cracker crumbs
1 Tablespoon sugar
3 Tablespoons unsalted butter, melted
For the filling
2/3 cup sugar
zest of 2 lemons
1 (8 oz.) package cream cheese, softened
2 teaspoons fresh lemon juice
1 teaspoon pure vanilla extract
1 (8 ounce) tub frozen whipped topping, thawed
1 cup fresh raspberries, slightly mashed with a fork
Instructions
In a medium bowl, stir together the graham cracker crumbs and 1 tablespoon of sugar and melted butter. Evenly divide the crumbs between your individual serving dishes and press into the bottoms of the dishes to form a crust layer.

In a large bowl, mix together the sugar and lemon zest until the sugar becomes moist and fragrant. Add cream cheese and beat with an electric mixer until smooth. Add lemon juice and vanilla mixing to combine. Using a rubber spatula, fold in the whipped topping until well blended, then fold in the raspberries.

Evenly pipe or spoon the filling into individual serving dishes. Cover with plastic wrap and refrigerate for at least 2 hours before serving. If desired, garnish with fresh raspberries and a sprig of fresh mint.
Notes
If you want to make this into a pie, just pour filling into a 9-inch graham cracker crust and refrigerate for 3 hours before serving.